← Back to portfolio
Argonia-Attica reloads for a new football campaign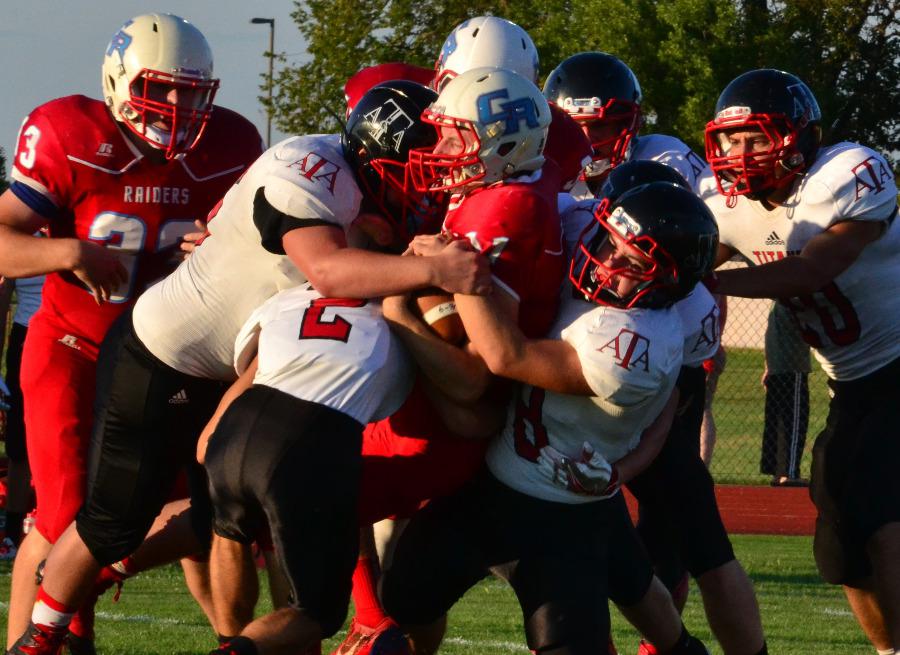 Argonia-Attica's offense sputtered a bit early, but the Titan defense picked up the slack and the team rolled to a 56-12 in over Sedan Friday in the season opener for both teams.
The Titans have most of their team back from last year that put up video game like numbers on its way to the state championship game in 8-man football.
The team did have to replace most of its offensive and defensive lines this year, so that was a concern for the coaches.
"We knew they (Sedan) would be physical. We didn't really know how we would match up with them," A-A coach Luke Greenwood said. Even though the team struggled early on, he was very happy with the result. "We knew we had the athletes, we have good athletes."
He credited the defense with stepping up and making plays when the offense was struggling.
"That is what we talked about during the week. If one area is struggling, another area has to step up," he said.
Early on Argonia-Attica moved the ball but had trouble hanging on. In the first quarter the team threw an interception near the goal line. On the next play a nice completion was fumbled on the goal line. Both of those turnovers led to Sedan getting the ball on its own one, but both times the Titan defense recorded a safety.
Earlier in the quarter the teams traded touchdowns, but with the safeties, Argonia-Attica led 10-6 at the end of the first quarter.
Sedan drove deep in to A-A territory in the second. A fumble and a bad snap ended that drive.
Befoe halftime A-A got a 17-yard scoring run from Alec McDaniel and Jacob Norris scored fom 14 yards out on a reverse, to give the Titans a 26-6 lead at the half.
From there it was all Argonia-Attica as the offense had found its groove and the defense never let up.
Sedan's only score from that point was a 78-yard kickoff return by Hunter Cummings.
Argonia-Attica rolled up 196 yards of offense and held Sedan to 23 in the second half, while scoring 30 points.
In the third quarter Devon Newberry scored on runs of 30 and 24 yards. He had 81 yards on five carries in the second half alone, and had 85 for the game.
In the final quarter McDaniel passed 10 yards to Norris for a touchdown, and Masen McDaniel added a touchdown on a three yard run very late.
McDaniel had 62 yards rushing on 18 carries, and completed seven of 11 passes for 76 yards.
Argonia-Attical finished with 307 yards and held Sedan to 106.
Argonia-Attica travels to Dexter next week.