← Back to portfolio
Caldwell blows out Argonia-Attica in regional rivalry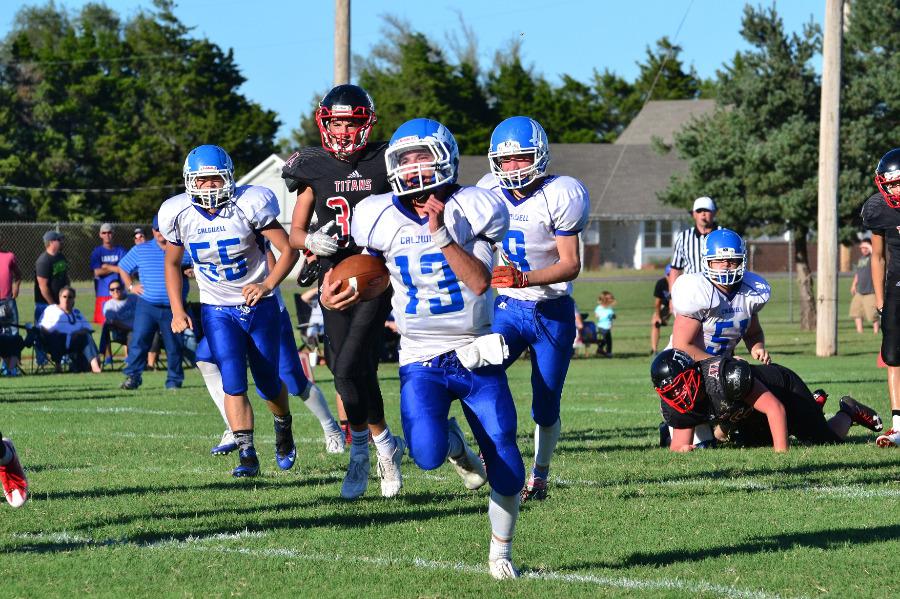 Caldwell scored early and often in a 90-48 win over Argonia-Attica Saturday in Argonia. The game was rained out Friday night, and Caldwell was none the worse for playing the game a day later.
Blue Jay quarterback Colten Ward put on a show of offensive football, accounting for nine touchdowns as Caldwell scored on five of six first half possessions.  Caldwell also added a defensive touchdown, leading 22-0 after one quarter and 46-14 at halftime.
Ward had 324 yards rushing on 24 carries, with six touchdowns on the ground. He averaged 14.3 yards per carry. He also completed six of seven passes for 128 yards and three scores.
On the first possession he scored on a 19-yard run up the middle on a third and 15 play. On two consecutive possessions in the second quarter he scored on 65-yard runs after running the option. He almost did it a third time, getting 42 yards on the first play of that drive.
Also in the midst of the flurry of touchdowns, Caldwell's COrbin Rice picked off a pass and scored from about 25 yards out.
After the game Caldwell coach Sean Blosser credited the offensive line with making holes and controlling the line of scrimmage. He said that allowed Ward to have time to make the reads on the option, and he did that well.
"I thought our line took a huge step tonight. Then Ward made the right reads," he said.
Argonia - Attica seemed out of sync early on, and never got its offense going. They were also unable to slow down Caldwell much.
Argonia Attica defensive coach Lance Vandeveer credited Ward with making great plays. He said he would have to look at the film and try to find out what they were missing, but he said he tried several adjustments but none of them stopped the Blue Jays.
Caldwell scored on all six of its second half possessions as well, but in the second half Argonia-Attica started scoring points too.
But nothing went right for the Titans. On their first possession of the second half Seth Hemberger scored on about a 50-yard run, but it was called back because of a penalty. Three plays later a punt was blocked and Caldwell got the ball inside the Argonia-Attica five.
Even after getting backed up for a couple of plays, Ward passed 10 yards to Dilyn Volavka for a touchdown.
Dilyn Volavka caught all three of the touchdown passes, and had six receptions for 128 yards.
Dakota Volavka ran 17 times for 105 yards and two touchdowns.
Argonia Attica scored on five of seven second half possessions. They never really got close, but a couple of times in the third quarter Caldwell was ahead by 44 points, and another unanswered score would have ended the game early.
Hemberger finished with 147 yards rushing. Brady Ricke had 68 yards receiving, Anthony Handlin had 56 and Blake Harmden had 53. Quarterback Trevor Pierce finished with 199 yards passing and two touchdowns. He also ran for 53.
It was the first regular season loss for Argonia - Attica in more than two years.