← Back to portfolio
Caldwell prepares to battle Argonia Attica in football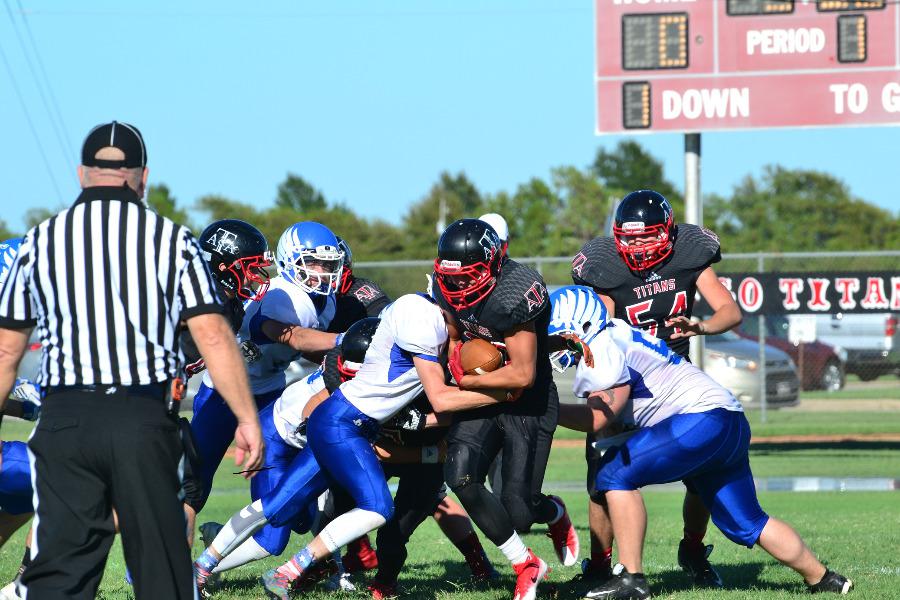 Caldwell and Argonia-Attica made strong statements in their respective season openers last week, and they meet in week two in Argonia in what could be a game filled with offensive fireworks. Both teams had strong showings, and both could well be playoff contenders and could meet again in the post season.
It is a pre-district game though, and will have little bearing on any standings that matter, so both teams can enjoy the moment without much pressure.
Last week Caldwell blew out Udall 52-6, and Argonia Attica beat Central Burden 52-12. In  both instances the game ended early because of the score.
Argonia-Attica was perhaps a little more of a surprise as most of the starers were new and they were playing the a preseason ranked team. It looked more like a reloading than a rebuilding campaign.
Freshman quarterback Trevor Pierce passed for 107 yards and rushed for 102 more and accounted for four touchdowns. Seth Hemberger rushed for 101 yards.
Caldwell is a senior-laden team with a lot of experience, and their blowout was more expected. Running back Dakota Volavda averaged 23 yards per carry last Friday, running for 142 yards on six carries and scoring twice. Senior quarterback Colten Ward completed all four of his passes for 51 yards and one touchdown.  He also ran for 74 yards on four carries. Caldwell had 281 yards of offense, but their yards per play, 14.8 was impressive.
Argonia-Attica coach Luke Greenwood said the game has become a rivalry and they are excited about the game, but they are definitely taking Caldwell seriously.
"Caldwell has a very talented team this year with most everyone back from their playoff team last year.  Our teams are very similar and we both have high expectations for this season," Greenwood said.
He said his team would try to slow down the Caldwell offense. He said getting pressure on the quarterback often would be a good way to slow them down.
Greenwood said his team worked on eliminating mistakes like missed blocking assignments, and adjusting to defenses.
Greenwood said the game would be a good test and "should help us gauge what kind of team we have this year."
Caldwell coach Sean Blosser had similar sentiments, saying the game should give them a clear picture of where they are as a team.
"When you play a team that has had a couple seasons like A and A has you should be excited. You practice and prepare to have the opportunity to play good teams. We have that this week," Blosser said.
Blosser also said the team worked on techniques and getting better at making reads this week.