← Back to portfolio
High School football preview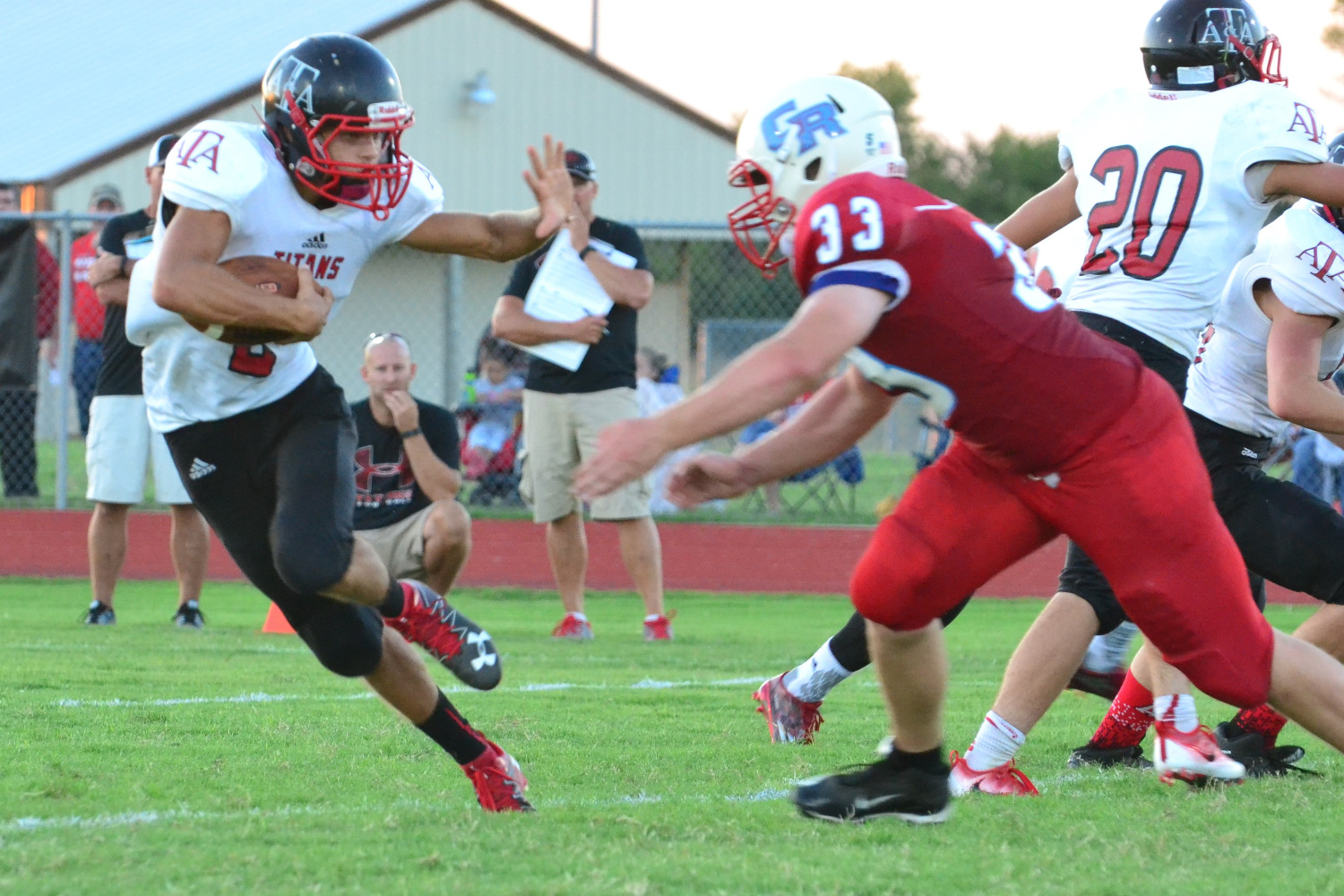 Wellington will be trying to break a long streak - dating back to 2005 - when it hosts Mulvane Friday. The Crusaders have not beaten Mulvane since 2005. Mulvane has won the last seven, but Wellington still leads the overall series 25-9.
Last year Wellington would have been the favorite, going into the game with a 5-2 record, but fell 14-7 when it could not get its offense on track.
This year the Crusaders have an advantage in the won-loss column again. The Crusaders are 4-3 overall and Mulvane is 3-4. Wellington is coming off a strong win over Rose Hill and Mulvane is coming off a close loss to Ulysses in district play.
Wellington will host Ulysses the following week.
There are still a lot of playoff scenarios possible entering the second week of district play. Wellington and Ulysses each have a win while Mulvane and Rose Hill each have a loss now. Rose Hill plays Ulysses this week. Wellington can clinch a playoff berth with a win by 21 points, or with a win and a Ulysses Win. A third way to clinch a playoff spot Friday would be to win by same amount as Rose Hill. Regardless of the outcome, the final week will also have a big impact on the district race.
The Crusaders have not lost as many players this year to injury as they did last year. Still, the Crusaders have lost Remington Gilkey for the remainder of the season, which takes a big chunk out of the Wellington offense. Gilkey had rushed for 446 yards, with a 10.3 yard per carry average, and five touchdowns. Chris Kop has run for 381 yards and three touchdowns.
Connor Phelps is 73 yards away from reaching 1,000. He has 13 touchdowns and is averaging 132 yards per game.
The Crusaders are definitely run oriented, averaging just 20 yards per game throwing the ball. Quarterback Cade Phelps has passed for 143 yards and two touchdowns.
Mulvane is averaging 24.9 points per game while the Crusaders are averaging 27. Mulvane however, has an advantage in total yardage and a more balanced attack. The team is averaging 197 yards per game rushing and 161 yards per game passing. Sophomore quarterback Jayden Price has thrown for 1,127 yards, 13 touchdowns and six interceptions. He has also rushed for 452 yards and four touchdowns.
Keaton Shoemaker has rushed for 452 yards and five scores.
Belle Plaine at Conway Springs

Conway Springs will be in unfamiliar territory this week when the Cardinals hosts Belle Plaine. They know where their stadium is, but what is unfamiliar is their situation. Conway Springs has lost three games this season, two in a row, and must win to keep its playoff hopes alive.
The perennial powerhouse of Conway Springs has struggled at times this year, but should not struggle too much against winless Belle Plaine. The Dragons of Belle Plaine have not won a game in more than two years, and they have had only one close game this season.
Conway Springs lost its first district game to Cheney last week in a close game. The Cardinals will host Chaparral - a solid 6-1 team - in the regular season finale the following week. Cheney (5-2) plays at Chaparral this week.
A lot will be riding on the Cheney - Chaparral game, and things like margin of victory may have a role in the playoff picture before it is over.
South Haven at Caldwell

South Haven and Caldwell are both 1-2 in district play and have only faint playoff hopes left. But these two schools are just 10 miles apart, and it has been a long running rivalry game for 8-man supremacy in south Sumner County.
South Haven is 3-4 and is coming off a 56-28 win over Norwich, which was not a surprise.
Caldwell is coming off a 60-36 loss to South Barber, in a game that was close when the fourth quarter started. South Haven lost to South Barber 32-22 two week ago.
Argonia-Attica at Norwich

Argonia-Attica continues to steamroll through its schedule, and the unbeaten Titans may continue that Friday at Norwich (2-5). Last year Argonia - Attica was a bit of a surprise as they rolled through the regular season and reached the state finals.
This year they were no surprise with their high octane offense, and they even have a little more size on defense this year, making them more formidable.
The Titans' closest game so far this year was their season opener, which they won by 44 points. The Titans have scored at least 56 points each game, and have been over 60 in three.
Argonia - Attica will try to avoid overlooking Norwich as they host South Barber the following week at Attica.  South Barber is 6-1 and plays at 5-2 Pretty Prairie Friday.
Oxford has struggled to a 1-6 season so far, and the road gets no easier. Oxford plays at unbeaten West Elk Friday.