← Back to portfolio
Wheat Harvest in progress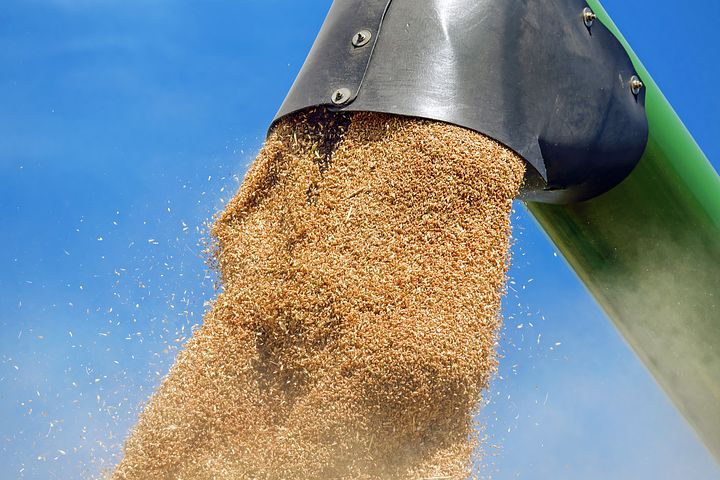 Wheat harvest in progress, photo by Pixabay

First week of June

The wheat harvest should get rolling later in the week, and this year should be better than the previous two, which were not very good.
There has been a lot of rain, sometimes too much, and the crop is earlier than usual across the country and in Kansas. There is some test cutting happening in Sumner County already, but local co-op managers say they haven't had any come in yet.
Wellington Co-Op manager Curt Guinn said he expects that to change quickly and he expects his operation will be busy by the end of the week.
He said he had not seen enough wheat to know the condition locally, but regionally reports say the crop is in good shape.
Sumner Extension Randy Hein said he had heard some people were ready to start cutting, and so far it looks good.
"It looks pretty good. There are a few problems but there are some problems every year," he said. "Unless there's a bad storm or some hail, it should be good."
The wet and cool weather in the spring helped the wheat fill out. The dry winter was a concern, and has caused some area to be thin, but the rains came in time this year, he said.
Last year drought took a toll, but there were also untimely hard rains, heavy wind and even hail that had a detrimental impact on the crop. It was one of the few years that the overall crop was damanged by drought and flooding in the same year. And that was the second consecutive bad year. 2014 was less than half of what 2013 had been, but 2013 was a very good year for wheat in Sumner County and the rest of the state.
There were a few good areas last year, but there were a lot of places that got 10-15 acres per bushel, and some felt that was not even worth cutting.
For the entire state, there was 321 million bushels harvested, compared to 246 million in 2014, which was the lowest in 25 years, according to the Kansas Wheat Association. In 2013 there was 310 million bushels harvested in the state.
In May the Kansas Wheat Association had its annual tour, surveying 655 fields across the state. They are projecting an average of 48 bushes per acre, 14 percent more than last year, across the state.
Second week of June

As the wheat harvest started a week or so ago, farmers and agriculture officials were expecting to find a much better crop than what they had the last couple of years. Now that it is in full swing, they are finding their predictions were correct.
In Sumner County 35-70 bushels per acre are being reported, which is a lot better than last year when even 20 would have been considered good. The weather cooperated mostly, and recent rains have not hampered progress much. Some fields are still wet, but for the most part farmers are reaping a really good harvest.
Sumner County extension agent Randy Hein said test weights are around 62-64, which is good.
"It sounds like it's pretty good from what I have heard," Hein said.
In the upper parts of the state, and to some extent in the west, yields are even better, according to the Kansas Wheat Commission, with patches of 100 bushels per acre being reported.
The good crop is appreciated by those growing wheat, but they are finding prices have fallen.
Prices had averaged about $5 a bushel over the past year. The prices were well over $7 a bushel during the drought years of 2012-13, according to K-State research. This year is even worse. The Agriculture department said prices are as low as $3.60 a bushel in some areas and $4 is common.
Some are holding on to their wheat, hoping prices will rise. If they have a place to store it they can hold out awhile, but if they have to pay for storage, that negates higher prices to some extent.
Hein said the harvest is going smoothly so far, and some are holding off on selling their wheat, hoping for better prices. The harvest is huge, as Kansas is the nation's top wheat producer, and Sumner County is always at the top of the list of counties producing wheat.
The harvest does not last long though. Hein said people in Sumner County will probably be done in another week to 10 days.
Third week of June

The Kansas wheat harvest is all but done in Sumner County, as well as most of the state. Local agriculture officials say it is about 95 percent done in the county. Recent rains should not have much of an impact as most of the wheat in the county is already harvested.
Curt Guinn, of the Wellington Coop, said the operation has slowed a lot, and they have surpassed 3 million bushels at that coop alone.
Statewide officials expect 393 million bushes to be harvested, which is a 22 percent increase from 2015. The statewide average so far is 48 bushels per acre, and if that holds up, it will surpass a record set in 2003.
The last two years were pretty lean, so this year is a welcome sight. Sumner County Extension Agent Randy Hein said he has heard of yields of 35 bushes an acre, up to as many as 70 in isolated areas. With the freeze, flooding and drought of a year ago, very few reached even thee 35 bushes an acre mark.
What problems there were, were minor, Hein said.
"From what I have seen and heard, it looks really good," he said.
The entire state is doing well this year, with timely rains and a good mix of hot and cooler temperatures at the right time. Even in the western part of the state, good yields have been reported, with 30-40 bushels per acre common.
In the north central part of the state there are higher yields often, and many are reporting 70-80 bushels an acre.
The long cool spring helped a lot with filling out the heads of rain.
Test weights are around 62-63 in Wellington, which is good.
Prices are still low, so even though farmers have a lot of wheat, they are concerned about the price.
Some are holding off, hoping for better prices, and are storing it at the co-ops.
Sumner County has led the state in wheat production many years. It's too early to tell this year, but it could easily. In 2012, the last year official stats are available, it led the state during somewhat of a down year with 12 million bushels.